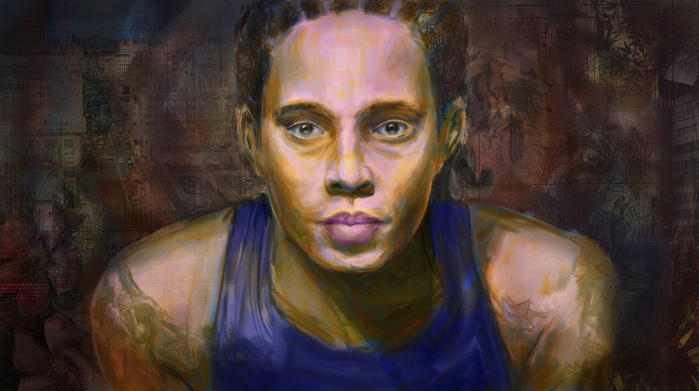 "I guess I am a game changer"
A portrait of Brittney Griner | 2022 |
Digital Mixed Media Painting | 11811*6600px JPG
Brittney Griner is a record breaking WNBA player, an Olympic Gold Medalist, a queer trailblazer in professional sports. I painted this portrait in 22 while she was detained in Russia amid a geopolitical crisis.. "I guess I am a game changer" is a quote from an interview from 2013 ("My ink").
This portrait is an expression of gratitude for -- besides being an amazing Basketball player -- showing us how to be comfortable in one's skin, and what we can achieve if we are. It was also a prayer for strength, things to resolve and Brittney Griner returning to her family. On December 8, after 10 months, she was released in a prisoner exchange and came home!
I painted the portrait digitally in Photoshop with pen & tablet. The background is a collage of different elements from the archives I montaged in Photoshop. It creates a mesh of pictures of the two cities she plays for - Phoenix & Ekaterinburg - picking up elements of her ink (plants, lion) and a blueprint of an basketball court to tie everything together.*
Blanche: "AIDS is not a bad person's disease, Rose. It is not God punishing people for their sins!"
72hours | 2022 | Digital Mixed Media Painting | 8000*4470px JPG |
This portrait of Betty White & Rue McClanahan as Rose & Blanche is inspired by the episode "72 hours" from the show "The Golden Girls". It's about courage, speaking up, when everyone else stays silent, about compassion and my gratitude for those using their voice. In the episode that aired in February 1990 Rose receives a letter from the hospital where she had her gallbladder removed. They warn her that during her transfusion she might have been exposed to blood containing HIV antibodies. As the ladies accompany her to the hospital to get tested, Blanche comforts a very frightened Rose by explaining that she too had the test and knows what her friend is going through. While Rose endures waiting the requisite 72 hours to receive her test results, tensions run high as the women deal with fear and confusion surrounding HIV+AIDS.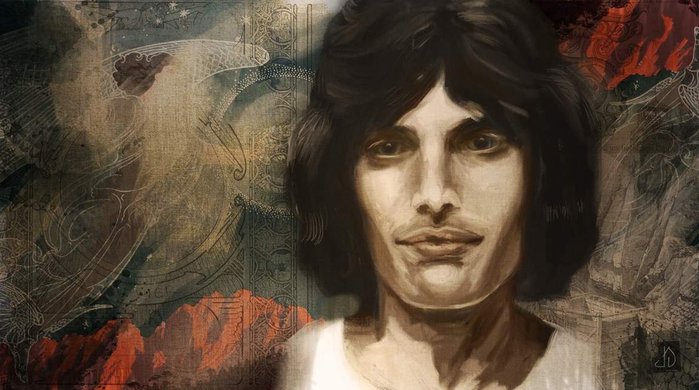 "My fairy king can see" - A portrait of Freddie Mercury
Digital Mixed Media Painting | 8000*4504px JPG |
Available as NFT on
voice.com
This portrait painting of Freddie Mercury is inspired by Queen's epic song "My fairy king" published in 1973 on their first album: "..My fairy king - He rules the air - And can see things - That are not there - For you and me to see.." ***
"Pay it no mind" - A portrait of Marsha P Johnson
Digital Mixed Media Painting | 8000*4504 px JPG | NFT on
voice.com
"Pay it no mind" is what the P. stands for in Marsha P. Johnson - activist, self-identified drag queen, saint, sex worker, performer, survivor. It's what Marsha would say in response to questions about her gender. "Pay it no mind" is this beautiful invitation to instead of the initial set up of roadblocks of categorization and judgment, try human connection. It is also this practice, that everyone will adopt, who is othered so much that living life does not only becomes difficult but dangerous if they want to express themselves. It won't keep you safe, but allow you to be, and become more. This is what Marsha P. Johnson did: show up with strength in activism as much as love & kindness. Thank you, Marsha P. Johnson, for changing our lives, teaching us courage, love, compassion, for showing us how to make change, express our beauty, and try to keep our hearts open.
"For My Community" - A portrait of Sylvia Rivera
Digital Mixed Media Painting | 8000*4504 px JPG | NFT on
voice.com
*
"We didn't take no shit from nobody. We had nothing to lose. You all had rights. We had nothing to lose. I'll be the first one to step on any organization, any politician's toe if I have to, to get the rights for my community." - Sylvia Rivera The reference for the portrait painting is a series captured by Valerie Shaff in '96 just before the destruction of her home for the build of the Hudson River Waterfront project. Rivera described the event as follows: "It's called a sweep. Not even a fucking eviction. A sweep, like we're trash."